Having completed 2 incredibly successful events to date, the Underground (http://www.facebook.com/theunderground2012) returns to Di Piazza's in Long Beach to once again bring together some of the best under-represented talent in metal. Not only is the Underground a great way to listen to some of your favorite bands but also to discover new bands and friends. The community vibe at the Underground shows is unmatched by any other event in the area with most fans staying from the first band to the last and not just hanging out for a friends band and leaving. It is this camaraderie between the bands and the fans that make The Underground a place we all want to hang out together at. Come join us at the next event and be apart of the Underground community.
Cerebellion will be playing a special set of songs for this show only. You will have to show up to see just what our set will consist of.
Lineup for the Underground III:
7:00 pm – Aepathy
7:45 pm – Haster
8:30 pm – Cerebellion
9:15 pm – The Armiger
10:00 pm – Solegion
Win FREE stuff like Shirts, CD's, Stickers, etc. from the bands at the Underground.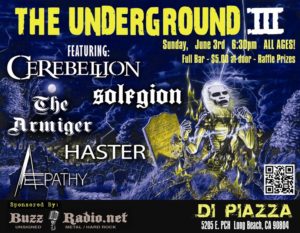 /wp-content/uploads/2019/10/Cerebellion-Web-Logo_340x66.png
0
0
Cerebellion
/wp-content/uploads/2019/10/Cerebellion-Web-Logo_340x66.png
Cerebellion
2012-05-16 14:03:51
2012-05-16 15:15:34
The Underground III